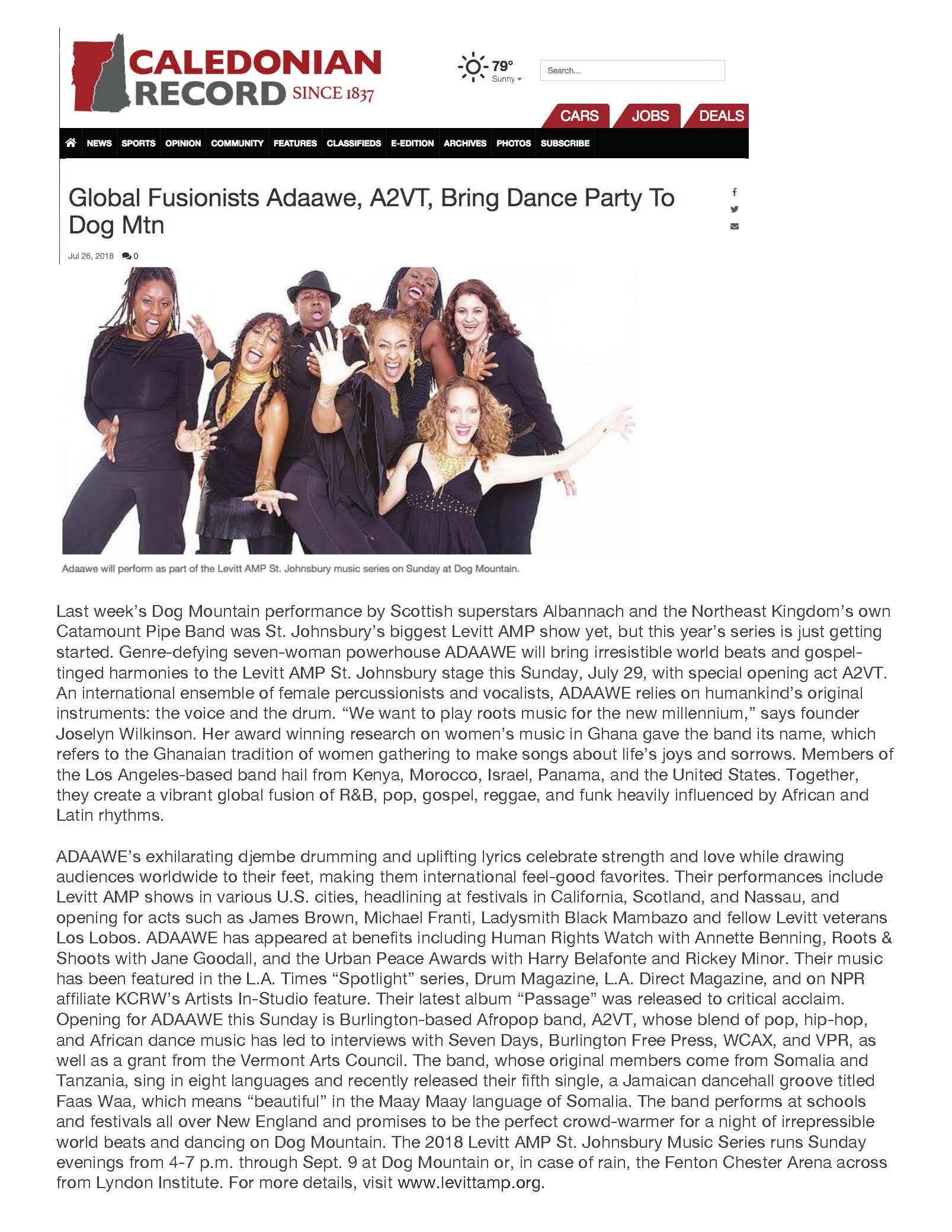 Last week's Dog Mountain performance by Scottish superstars Albannach and the Northeast Kingdom's own Catamount Pipe Band was St. Johnsbury's biggest Levitt AMP show yet, but this year's series is just getting started. Genre-defying seven-woman powerhouse ADAAWE will bring irresistible world beats and gospel tinged harmonies to the Levitt AMP St. Johnsbury stage this Sunday, July 29, with special opening act A2VT. 
An international ensemble of female percussionists and vocalists, ADAAWE relies on humankind's original instruments: the voice and the drum. "We want to play roots music for the new millennium," says founder Joselyn Wilkinson. Her award winning research on women's music in Ghana gave the band its name, which refers to the Ghanaian tradition of women gathering to make songs about life's joys and sorrows. Members of the Los Angeles-based band hail from Kenya, Morocco, Israel, Panama, and the United States. Together, they create a vibrant global fusion of R&B, pop, gospel, reggae, and funk heavily influenced by African and Latin rhythms. 
ADAAWE's exhilarating djembe drumming and uplifting lyrics celebrate strength and love while drawing audiences worldwide to their feet, making them international feel-good favorites. Their performances include Levitt AMP shows in various U.S. cities, headlining at festivals in California, Scotland, and Nassau, and opening for acts such as James Brown, Michael Franti, Ladysmith Black Mambazo and fellow Levitt veterans Los Lobos. ADAAWE has appeared at benefits including Human Rights Watch with Annette Benning, Roots & Shoots with Jane Goodall, and the Urban Peace Awards with Harry Belafonte and Rickey Minor. Their music has been featured in the L.A. Times "Spotlight" series, Drum Magazine, L.A. Direct Magazine, and on NPR affiliate KCRW's Artists In-Studio feature. Their latest album "Passage" was released to critical acclaim. 
Opening for ADAAWE this Sunday is Burlington-based Afropop band, A2VT, whose blend of pop, hip-hop, and African dance music has led to interviews with Seven Days, Burlington Free Press, WCAX, and VPR, as well as a grant from the Vermont Arts Council. The band, whose original members come from Somalia and Tanzania, sing in eight languages and recently released their fifth single, a Jamaican dancehall groove titled Faas Waa, which means "beautiful" in the Maay Maay language of Somalia. The band performs at schools and festivals all over New England and promises to be the perfect crowd-warmer for a night of irrepressible world beats and dancing on Dog Mountain. The 2018 Levitt AMP St. Johnsbury Music Series runs Sunday evenings from 4-7 p.m. through Sept. 9 at Dog Mountain or, in case of rain, the Fenton Chester Arena across from Lyndon Institute. For more details, visit www.levittamp.org.