L.A. Watts Times
Published on Thursday, 22 December 2022 17:21 
Written by Marie Y. Lemelle, MBA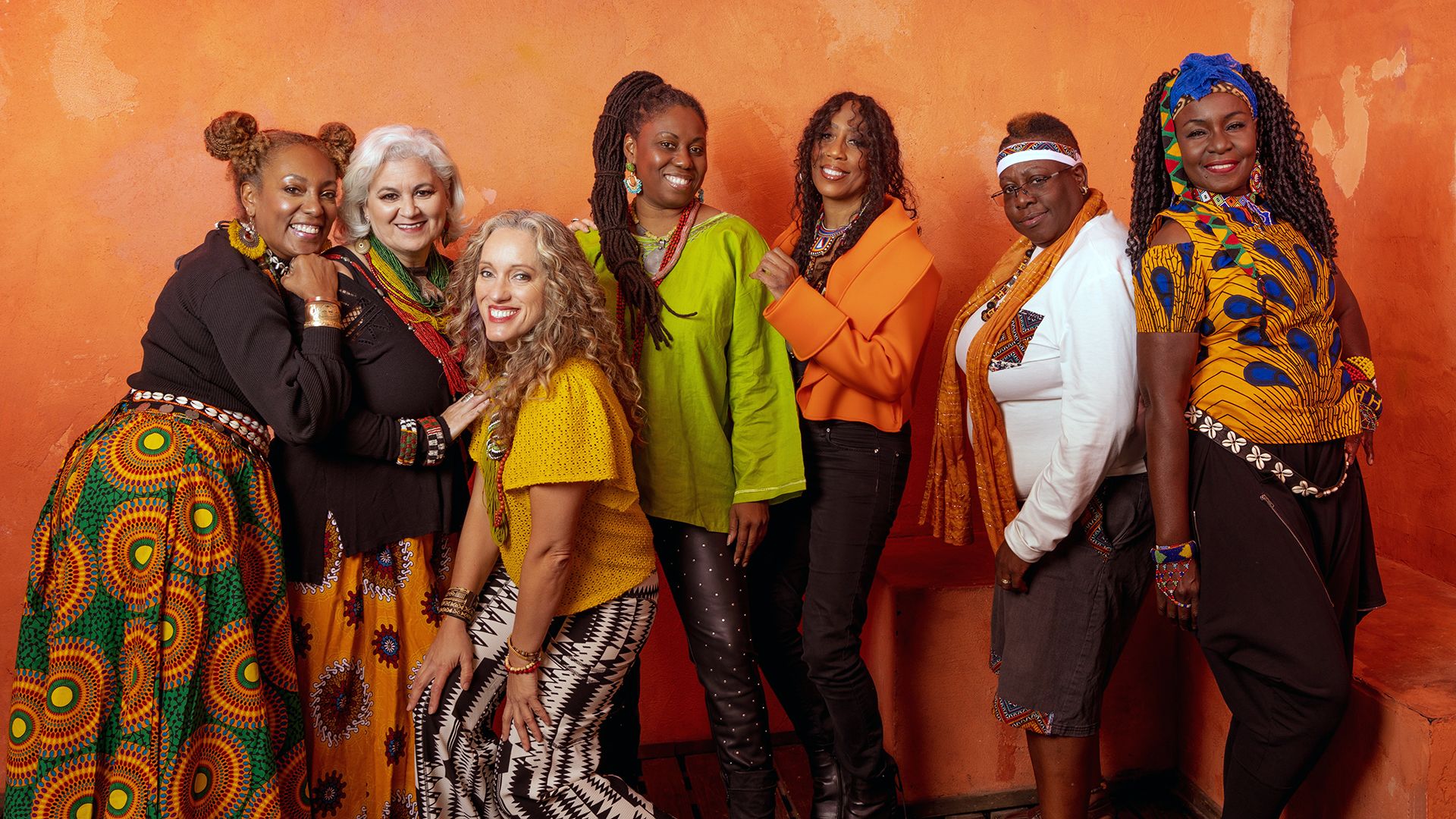 Back for an encore performance is an all-women global soul ensemble, ADAAWE, comprised of (from left) Bridget Graham, Monique Afenjar, Joselyn Wilkinson, Nikki Campbell, Phylliss Bailey Brooks, Dez Glover, and Anindo Marshall who play from West African drums to congas and modern drums. (Courtesy Photo) 
Returning with a live audience for the first time since 2019, the annual L.A. County Holiday Celebration, a one-of-a-kind, free holiday spectacular that has been a Los Angeles holiday tradition since 1959. 
The 63rd annual, two-time Emmy® award-winning event at The Music Center's Dorothy Chandler Pavilion takes place on Saturday, Dec. 24, from 3 p.m. to 6 p.m. The three-hour celebration features 21 music ensembles, choirs and dance companies from neighborhoods and cultures that make up L.A. County. 
Internationally acclaimed mezzo-soprano and Emmy® award-winning television host Suzanna Guzmán returns as co-host for her ninth year, and will be joined by professional roller skaters, skate choreographer and coach Candice Heiden. Audiences can watch the live broadcast on PBS SoCal, streaming online at KCET.org and PBSSOCAL.org, or via the free PBS app. Encore broadcasts will be aired by PBS SoCal on Saturday, Dec. 24 at 6 p.m., and on KCET on Saturday, Dec. 24, at 11 p.m. and Sunday, Dec. 25, at 6 p.m. 
"Returning to this event is very uplifting to be part of this community open house," said Jocelyn Wilkinson, the founder of the women's collective, ADAAWE, which is an afro fusion global soul bands has opened for James Brown and Michael Franti over the years. the Rose Bowl and the wedding of Stevie Wonder. 
"The Music Center really took their time to handpick each group to show the diversity of neighborhoods and cultures that co-exist in Los Angeles and to celebrate all the contributions that our wonderful city has to offer." 
The line-up features colorful costumes and global sounds from Africa, China, India, Philippines, Mexico, Hawaii and more includes audience favorites, the Gay Men's Chorus of Los Angeles; gospel singers Lorenzo Johnson & Praizum; all-women global soul ensemble ADAAWE; Grammy® award-winner Daniel Ho with Hawaiian hula dancers Hālau Hula Keali'i o Nālani; Philippine folk arts dance company Kayamanan Ng Lahi; all-female mariachi ensemble Las Colibrí; Mexican folkloric dance troupe Pacifico Dance Company; current student and alumni ensemble Palmdale High School Choral Union and Sunday Night Singers; world chamber music ensemble Quarteto Nuevo; Asian/country fusion musicians Sound of China Guzheng Ensemble; children's ensembles MUSYCA Children's Choir and Our Lady of the Angels Children's Chorus; and Urban Voices Project, a choir comprised of men and women surviving homelessness on Skid Row. 
"ADAAWE is based on the tradition of women in Ghana, West Africa, who have a traditional song form called adaawe. The women come together in the village in the moonlight and sings traditional songs to uplift one another," said Wilkerson who conducted research on traditional women's music and get to know the women. 
"They are constantly improvising and creating new lyrics on the spot. And that celebration, that spirit of celebration and strength is what inspired the group. I was privileged to be an exchange student in Ghana, West Africa when I was at UCLA. " 
Newcomers to this year's celebration is the award-winning blues band Sista Jeans Blues Machine; hip-hop dance ensemble Temper Tantrum; all-kids a cappella group Squad Harmonix; secular a cappella choir Voices of Reason; modern kathak (North Indian classical dance) ensemble Shivam Arts Dance Company joined by Clarita Corona of Arte Flamenco; tap dance ensemble Reverb Tap Company; keepers of the Ballet Russe legacy Pacific Ballet Dance Theatre; and the California School of the Arts – San Gabriel Valley Vocal Arts Ensemble. 
"After these last rough few years, we will bring the Blues straight into everyone's hearts and minds and fill the audience with Christmas cheer," said Sista Jean McClain who has been in the music business for more than 40 years. She was a background singer for mega-hit songwriters Dianne Warren, Franne Golde, and Dennis Lambert. "Singing and playing the blues is our way of paying it back to those who came before us." 
Sista Jean's vocals appeared on Tina Turner's "What's Love Got To Do With It" movie soundtrack, Whitney Houston, Kenny G, and Aaron Neville's Song "Even If My Heart Would Break" on The Bodyguard soundtrack, A Duet with Mick Jagger's 2nd Solo Album "Wandering Spirit", and Cher's "If I Could Turn Back Time."  Together since 2016, the members of  Sista Jeans Blues Machine have sung and performed with celebrated artists like Bobby Caldwell, Chaka Khan, Larry Dunn Orchestra, Hugh Laurie, Lalah Hathaway, Jill Scott, Keb Mo, and more. 
Tickets to the in-person event are free and available on a first-come, first-seated basis. Doors open at 2:30 p.m. The show usually is filled to capacity. Attendees are encouraged to join the line as early as noon. The Music Center's Dorothy Chandler Pavilion is located at 135 N. Grand Ave., Los Angeles, CA 90012. Parking is free in The Music Center parking garage. 
For more information, call (213) 972-3099 or visit the website at www.HolidayCelebration.org.